GARDNER MACHINERY CORPORATION
700 N. Summit Avenue
Charlotte, North Carolina 28216-5561
Mail:
P.O. Box 33818
Charlotte, North Carolina 28233-3818
Phone: (704) 372-3890
Fax: (704) 342-0758
E-Mail: gmc@gardnermachinery.com

Gardner Sort Weigh Chute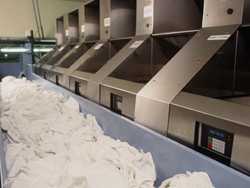 With the Gardner Sort Weigh Chute items are manually sorted into weigh chutes.  Any chute material that comes into contact with textiles is 304 stainless steel.  Each chute is inspected to assure that welds and edges are free of sharp edges and places that would "pick" the textiles.
Sorting chutes are constructed with pneumatically operated doors on heavy-duty hinges, resulting in a design for years of trouble-free service.
Each sorting chute control operates a pair of Gardner Sort Weigh Chutes.  The control uses a pair of load cells mounted on each chute to determine the weight of goods being sorted into the chute, and also signals the operator when the chute is full.
Each chute control has a two line VFD (vacuum florescent display).  The top line of the display will indicate which item is to be loaded into the upper chute and its current weight, and the bottom line will indicate which item is to be loaded into the lower chute and its current weight.
Piece Count Light Frame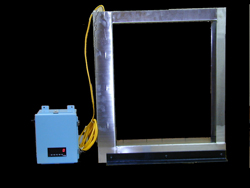 The Gardner Piece Count Light Frame is a quick way to count small items such as diapers, cleaning rags, etc. to be washed.
The Light Frame counts items as they are thrown through a 22.5-inch high by 20.87 inch wide opening.  The frame is fabricated from 14ga. stainless steel.  The 14 beam retro-reflective array is protected by a piece of replaceable tempered glass.
The counter will count 0-99,999 with a response of 25 milliseconds and is reset to zero by the simple push of a button. By means of a scale factor the counter may be programmed to display approximate weight instead of pieces. The counter and power supply can be remotely mounted at a convenient location for the operator.
The frame may be mounted on a tabletop or along a sorting conveyor in a horizontal or vertical position.