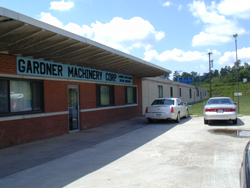 Gardner Machinery Corporation (GMC), a manufacturing firm founded in 1947, is located near downtown Charlotte, North Carolina.  Our expertise in the operation of commercial and industrial laundries enables us to provide customized equipment to laundries of varying sizes including turnkey jobs and in varying degrees of automation.  And since few design issues can be solved with standard solutions, our expertise in design layouts allows us to provide efficient, safe, labor-saving, custom solutions for custom problems.
Our primary focus is designing, engineering, and manufacturing automated material handling systems to classify material, transfer it from one area to another, and store large amounts of materials.  These innovative systems, which create an efficient work flow pattern, include overhead gravity monorail conveyors, floor-mounted conveyors, laundry carts, weigh carts, chemical blending systems, and other products.  Our systems are coordinated with the operation of the other machines (washers, dryers, etc.) and equipment in the laundry, and insure a "first in, first out" operation.
GMC systems are used most often in hospitals, hotels, commercial laundries, and textile plants; however, we also provide custom material handling solutions to a variety of  industries.  Our installations are located throughout the United States and abroad.
GMC products are recognized in the laundry equipment industry as quality products that provide excellent service for many years with few or no problems such as repairs or down time.  Only a minimum of maintenance is required.  The many safeties on our equipment are proactive in providing a safe work environment.
Gardner Machinery Corporation has pioneered innovations in laundry equipment design and manufacturing since 1947.  Some of these many innovations introduced to the laundry industry are:
Gravity monorail systems.  The first one, installed in 1962, was still in operation in 1992.
Rotary separator, designed to remove and recycle the lava rocks used in the washing process for stone-washed jeans.
An automatic control for dye machines before the days of computers when chemicals had been measured and added manually.
Flow Racks, which assure first-in, first-out use of linens.
Folding Stations, which ease the stress on the backs of the operators.
Weigh carts and, later, electronic weigh carts.
Automatically opening and closing slings.
Assorted conveyors, including Telescoping Conveyors.
Sort Chutes, including sorting by weight as well as by count.
"CUSTOM SOLUTIONS FOR CUSTOM PROBLEMS"