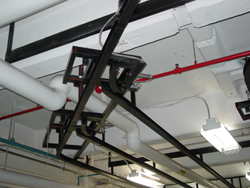 GMC switches are used to direct slings on trolleys into or out of storage rails or to areas remote from the loading zone. 
The switches are constructed of steel, and they are the glider roller type.  All switches are provided with safety stops to prevent trolleys from running off the ends of fixed rail.  Each section of switch with a 90-degree turn is fabricated in one frame to assure positive alignment.
GMC switches are fabricated and tested for accuracy and ease of operation in our factory.  They move smoothly on ball bearings that last for years, and they are so designed that they do not require friction strips that wear.
Air cylinders control the movement of the switches, resulting in positive positioning of the switch and eliminating the need for adjustable stops that require additional adjustment and maintenance.  Moving a switch is integral to the stroke of the cylinder, which is the same today, tomorrow, and thirty (30) years from now.
NOTE:  All switches are tested to exacting standards in our plant and are available in right or left single units, or in straight or angle multiple units of any required number.
Multiple Switches
When a bank of two or more switches is required (as is the case in entering or leaving storage rails), the switches are fabricated into a single unit to assure perfect alignment.  Since all tubing and air components have been assembled, the banks are tested for accuracy of operation at the factory.
Rotary Switches
When two rails cross at the same elevation, this switch rotates to accommodate travel of trolleys in both directions.  Made of steel, it is not the glide roller type, but instead utilizes a heavy duty thrust bearing assembly for rotation.