GARDNER MACHINERY CORPORATION
700 N. Summit Avenue
Charlotte, North Carolina 28216-5561
Mail:
P.O. Box 33818
Charlotte, North Carolina 28233-3818
Phone: (704) 372-3890
Fax: (704) 342-0758
E-Mail: gmc@gardnermachinery.com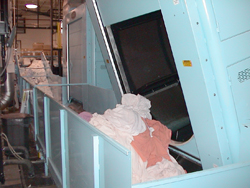 Since 1947 Gardner Machinery Corporation has had experience designing and manufacturing overhead gravity monorail conveyor systems, belt conveyors, laundry carts, digital weigh carts, sorting systems, and shuttle conveyors used in the transport of goods throughout the laundry plant.
The overhead monorail system is used to store and transport laundry to the washing and finishing equipment.
All components of our Gardner Overhead Monorail System are the heaviest and most ruggedly built in the laundry industry, resulting in longer service life and lower maintenance.
Belt conveyors are used in a variety of applications throughout a laundry to decrease the labor and turnaround time required for production equipment.  For example, several dryers can discharge onto one belt conveyor, which can then automatically transport the goods to a central sling-loading location.
Every installation is custom designed to fit each individual client's needs for the specific situation, from simple push-button systems to systems with fully integrated, computer-automated controls.
"CUSTOM SOLUTIONS FOR CUSTOM PROBLEMS"