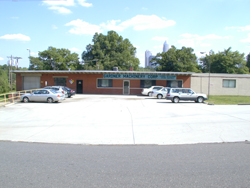 Gardner Machinery Corporation (GMC), located at 700 North Summit Avenue near uptown Charlotte, North Carolina, has pioneered innovations in laundry equipment industry design since 1947.   The Company has evolved from its early days of rebuilding used laundry equipment to its present day role of designing state-of-the-art automated and computerized material handling systems for institutional laundries, commercial laundries, textile plants, government facilities, etc.
Samuel W. Gardner, Sr., Samuel W. Gardner, Jr., and an associate, F. L. Rufty founded the business and incorporated it under the laws of North Carolina in  1947.  Sam, Sr. was the first President and Chairman of the Board, followed by Sam, Jr. for many years.  Now Richard (Dick) Gardner is the third generation of the family to hold these offices.
In the Company's early years, GMC reconditioned and rebuilt used laundry and dry cleaning machinery.  During World War II little equipment had been manufactured other than for the military, and after the war there was a big market for reconditioned laundry machinery since equipment was wearing out and it would take time for factories to re-tool for peacetime production. 
In the late 1940's the United States government closed military bases and had large quantities of surplus material and used equipment that it could no longer use.  By attending auctions for some and submitting bids on other lots, GMC acquired the stock to rebuild and sell refurbished equipment. GMC was also a distributor for various laundry equipment manufacturers.
By the end of the 1950's it was apparent to us that a labor saving system to move goods through a laundry efficiently was needed.  After much research, and thought in light of our comprehensive knowledge of the operation of commercial and industrial laundries, we designed an innovative gravity monorail conveyor utilizing the previously wasted overhead space that is customary in laundries.  This first overhead monorail laundry conveyor was installed in 1962 in the Sanitary Laundry in Knoxville, Tennessee, and was still in operation in the early 1990's. After the monorail we developed other components (conveyors, folding stations, etc.) to create an efficient system to move the goods in a laundry.  Our systems are automated, coordinating the operation of machines (washers, dryers, etc.) and other equipment in the laundry, and are custom designed to each customer's needs.
Other products invented by GMC engineers include but are not limited to: various types of conveyors; a rotary separator to remove and recycle rocks used in the washing process for stone-washed jeans; rotary accumulators, available in several sizes, which facilitate sorting and/or folding operations; flow racks which assure first-in, first-out use of linens; folding stations which ease the stress on the backs of the operators; weigh carts, including electronic weigh carts; and chemical blending systems. GMC also manufactures petroleum solvent stills and coolers, and assorted other items.
Today GMC provides customized equipment to laundries of varying sizes in varying degrees of automation, from small laundries to quite large ones, including turnkey projects. 
Our services include overall facility layout for efficient transfer of materials from one area/machine to another, and for storage and staging of materials within the facility.  These conveyer systems and equipment layouts establish an efficient work flow pattern and are designed to ensure first in, first out operations.
We have installed laundries in hospitals (including many of the Veterans Administration hospitals), hotels, textile plants, and a variety of other facilities.  Our products and expertise have applications in industries other than commercial and industrial laundries. 
GMC has customers throughout the United States, many in Canada, and others in Korea, Pakistan, Bahrain, Colombia, and Mexico.
Gardner Machinery has built a strong reputation for long-lasting, quality products and we continue to live up to that reputation.  We are fortunate that customers often seek us out. 
GMC's employees have been instrumental in the Company's success, and we are grateful to them for their work efforts and dedication. Without them we would not be where we are today.
GMC, continuing to be committed to furthering the laundry equipment industry and the people involved with it, is a member of  TCATA and TRSA.
The Company is open to new ideas and is dedicated to continuing to provide the innovative, reliable, superior quality products for which we are known.  We remain proactive on safety, and are dedicated to the protection of our environment. 
We look forward to the challenges of the twenty-first century.